We Brought Care to Twice-Disabled Uncle Choy
Disabled at birth, 73-year-old Mr Choy Yau Seng was born with a deformed left hand and was unable to grasp and hold with it. In a family of seven children, he only managed to attend a few years of primary school due to financial challenges in the family.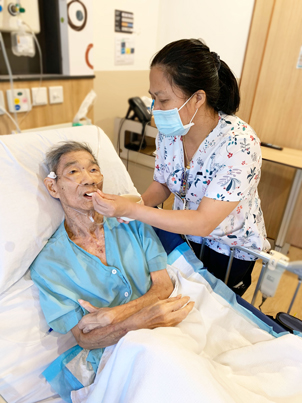 His father passed on when he was in his teens. To help his family make ends meet, he started working at a fruit stall in Chinatown. However, he was too slow for the stall owner's liking due to his physical constraint and soon lost the job. Without an education and with a disability, he could only work in a sheltered workshop, doing simple tasks like packing items in paper bags and labelling price tags, earning a token sum of $5 a day.
He tried to increase his income by working with his neighbour to buy fruits in bulk and sold them along the streets in Chinatown. Though that was his most "profitable" work, it was illegal, and he was soon caught by the police, and referred to another sheltered workshop. He tried to find work as a cleaner but was rejected as he could not sweep and mop the floor with one hand. Eventually, he found work as a toilet attendant. Life was simple and he found joy in his favourite fried Hokkien prawn mee with colleagues after work.
However, he was diagnosed with blood cancer in 2018. When his condition deteriorated, he started to experience persistent weakness and fatigue, and shortness of breath. By early 2022, he was too weak to move his lower limbs and could not walk. As he was staying alone in a rental flat in Kim Tian, there was no one to take care of him when he gradually lost the ability of basic activities of daily living – disabled the second time. He had to be admitted to Assisi Hospice inpatient ward in Feb 2022, to receive symptom management and nursing care that he needed.
At Assisi Hospice, he not only received care, but also found acceptance and companionship. Our staff and volunteers under the No One Dies Alone programme became his friends and bring him cheer as they journey with him. A fan of oldies by Theresa Teng and Yu Tian, he enjoyed singing his favourite songs with our music therapist. Painting sessions with our art therapist brought him cheer. Help us bring comfort and joy as we journey with lonely and needy patients like Uncle Choy.
Uncle Choy passed away peacefully on 27 April 22 with a NODA volunteer next to him.
---
Other Stories